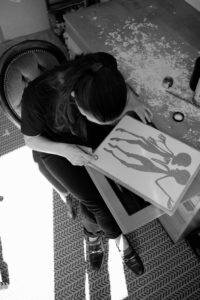 Carole Kehrwand was born in 1987 in Breitenbach (SO,Switzerland) and grew up in canton Jura (Switzerland).
During her childhood and adolescence, she expressed her creativity through dance. Along side her education and rigorous dance training, she developed a love for drawing and painting. At the age of 18, she realized that her body would not allow her to become a professional dancer. She decided to become a conservator concentrating in paintings and sculptures. She studied at the University of Bern, specializing in sculptures, gothic altarpieces and paintings of the old masters.
During her studies and career as an art restorer, Carole continued to nurture her passion for drawing.
In 2017 the artist became aware of the importance of this artistic medium that would greatly impact her work. So she decides to become a professional artist.
In 2018 she exhibit her first works at the biennale Visarte.Jura and become newcomer member of the professional association of visual artists of Switzerland.
In 2019, she began to have her own exhibitions in Switzerland.